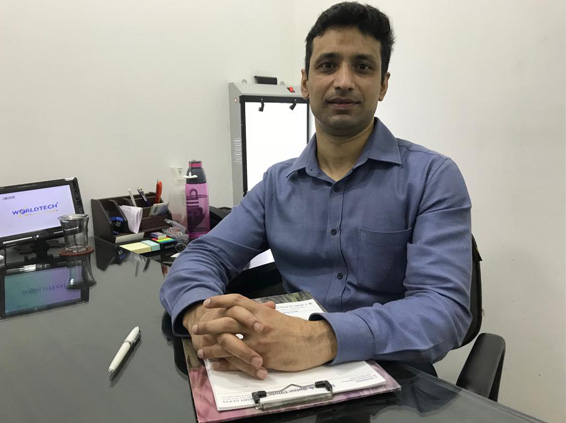 About Dr Amit Gupta
Dr. Amit Gupta is one of the leading neurosurgeon and spine surgeon with more than 15 years experience. He is a member of NSSI( Neurological Surgeons Society Of India). His motto is to help people to obtain a better quality of life. Dr. Amit Gupta is practicing in the heart of North Delhi. He strives to ensure the best possible result for each patient he treats.
He was initially exposed to minimally invasive and percutaneous spine surgery in 2010. Recognising the benefits to patients of minimally invasive spine surgery he continued to refine this technique. He has now been performing MISS decompression and fusion procedures for many years with outstanding results. Dr. Gupta completed his MBBS from the BRD medical college Gorakhpur in 2002.Then he pursued his MS from GR Medical college, Gwalior. There after he pursued his specialization in neurosurgery at esteemed SMS Medical College, Jaipur.
Dr Amit Gupta is renowned for his commitment to achieving optimal outcomes for his patients and his meticulous approach to surgery. He has now performed more than 3000 brain surgery procedures, and more than 2000 complex spine procedures such as disc replacement and fusion surgeries. He continues to incorporate new technologies and procedures into his practice only when he is certain of their benefit to his patients.
Dr Amit Gupta expertise in the field of
Head Injury and Spinal Injury
Neurovascular Surgery
Brain haemorrhage and Aneurysm
Congenital Malformations
Brain Tumor Surgery
Spine Tumor Surgery
Skull-base Surgery
Functional Neurosurgery
Paediatric neurosurgery
Epilepsy Surgery
DBS for Parkinsonism
Endoscopic brain Surgery
Craniosynostosis
Dr. Amit Gupta is a very sought after for his treatment of Migraine and Mental stress. An outstanding number of patients who were suffering from migraine for last many years and had no benefit from the various drugs have had a dramatic improvement in their headaches with Dr Gupta's treatment and most of these patients have in fact become symptom free with not even a single episode of migraine for last many months. He see lot of patients on daily basis in his clinic who are suffering from nerve pain, cervical pain, backache, paralysis, stroke, fits, vertigo, anxiety, depression and other neurological illness. Dr. Amit Gupta treats such patients with simple medical prescriptions and lifestyle modifications with excellent outcomes.
Dr. Amit Gupta has been awarded for his contribution to CME on Antibiotic Resistance- A growing threat and trends in platelet transfusion in May 2011. He has attended 59th Annual Conference of the Neurological Society of India (Joint meeting with Congress of Neurological Surgeons, USA). Dr. Amit Gupta has participated in 12th AIIMS Microsurgery Workshop organized by Department of Neurosurgery, Neurosciences Centre, New Delhi. Dr. Amit Gupta has participated in 2nd Indian National Radiosurgery Conference in New Delhi. Dr. Amit Gupta has participated in CME 2010 on Malignant Brain Tumors organized at VIMHANS, New Delhi.